The mere mention of a Dalma will take you down memory lane to a place nestled in the eastern part of India known as Orissa, a coastal state by the Bay of Bengal. It is one of the most comfort and staple food of Oriya people. Whatever the occasion, Dalma adorns the menu and I remember once when I slurped this scrumptious close cousin if dal at Govinda's restaraunt in Sydney, betting my hubby that it is non other than our coveted Dalma. We chatted with the Pujari (cook) and he said that it was indeed from Orissa and was offered as Prasad to Lord Sri Krishna at the ISKON temple.
It is absolutely a simple and fuss free recipe. The more the variety of vegetables, the better the taste is enhanced. I always love to have it in Orissa because we often get those vegetables that sometimes are hard to find here in the supermarket. Vegetables like raw banana and raw papaya are used Since I don't find them I often cook with regular vegetables that are mostly available in all the season. The important part of seasoning is using roasted cumin and dry chili powder. The recipe can be found here.
Dalma ( lentils with vegetables ) – An Oriya delight
Author:
Ingredients
¾ cup Tovar dal (lentils)
1 cup pumpkin cut into big chunks
1 medium sized potato cut into big pieces
1 cup eggplant cut into big chunks
1 large tomato diced
1 bay leaf
2 1/2 teaspoon ginger grated
½ teaspoon turmeric powder
Pinch of Hing (Asofotieda)
2 dried red chilies
1 teaspoon
pancha putona
1 teaspoon ghee
Salt to taste
Roasted cumin and red chili powder for seasoning
Instructions
Soak dal for 30 minutes. Drain and mix all the vegetable adding bay leaf and 1 teaspoon of ginger. Add 2 cups of water and cook in a pressure cooker on a medium fire. Allow couple of whistles and switch of the gas. Don't over boil the lentils. If the dal has dried up, add more water but the consistency should be thick.
In a pan heat the ghee, add hing, dry red chilies, pancha putona and 1 1/2 teaspoon ginger. When they start to crackle, add the cooked lentils and simmer it for couple of minutes.
Season it with roasted cumin and red chili powder and chopped coriander.
Serve hot with rice.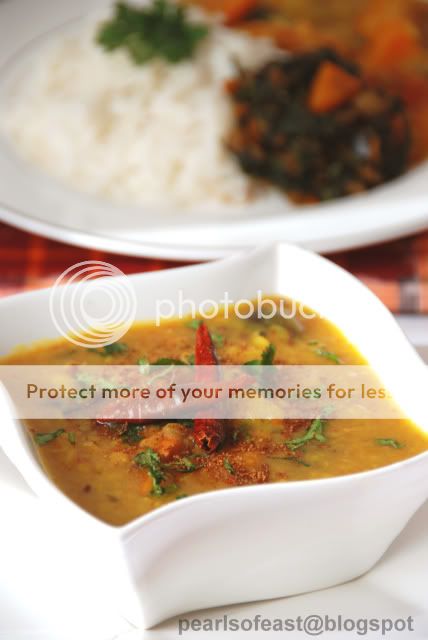 The other accompaniments that goes well are
Dahi baigana

It has been a week now to the deadly terrorist attacks on Mumbai the financial capital of India and much of the world has condemned these ghastly and gory attacks on innocent people in Mumbai. It is unfathomable why some people commit such heinous crimes and malign religion which has nothing to do with these acts of inhumanity.My heart is bleeding with the pathetic sight of Mumbai. The charm and glow of the Taj Hotel has vanished leaving so many people devasted and mourning. But what is so inspiring is the state of solidarity, faith and strength among the common affected people who are determined not to bow down before the threats of terrorism, they have become rock solid hard and are going about their business as usual. These acts are simply criminal, ghastly and unpardonable. Although among the perished, I have not known anyone personally but I grief & cry for the perished ones and my soul reckons to be with them to console them in their tragedy. To those of you who have lost your dear ones I pray to god that he gives you the strength and the patience to bear this irreplaceable loss and I pray for peace for everyone and all. I hope and pray that people learn to just be human beings and if nothing else at least have some respect for another human life. Let us all pray that when god has gifted us an advanced brain let us not act as animals and even animals do not attack unless provoked or are insanely hungry. Why can't we human beings if we cannot be as human beings, be at least like the animals and not kill another being. I have lit a candle in the memory of the departed and I pray and hope that peace will prevail.